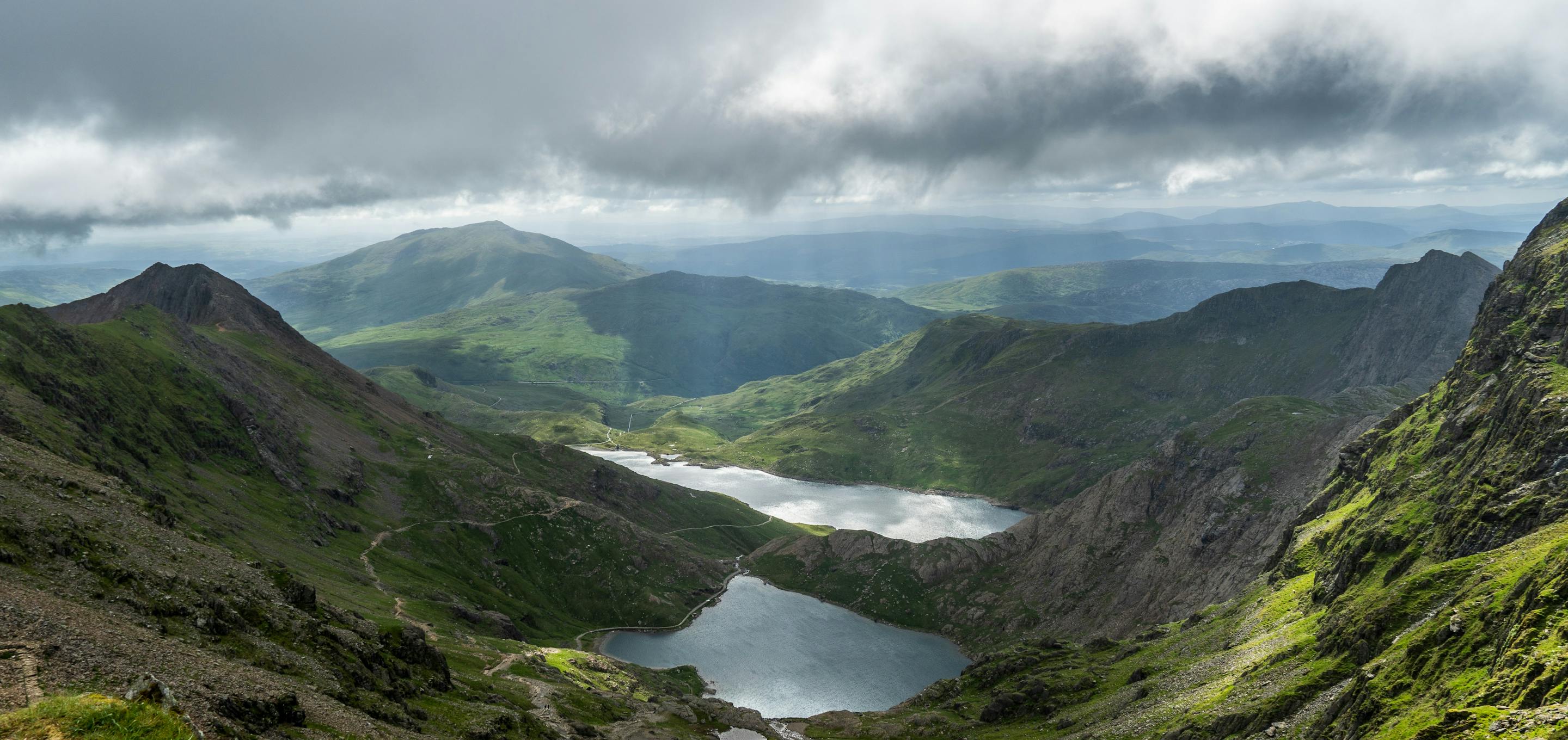 Josh Kirk
First Wilder Carbon projects live today making conservation grade carbon units available for Approved Buyers

Sarah Brownlie · Project Manager
We are extremely proud to be announcing our first live Wilder Carbon projects at the Natural Capital Investment Conference 2022 today! Meaning for the first time, conservation grade voluntary carbon units are available in the UK under the Wilder Carbon Standard, for Approved Buyers.
The first units made available for purchase today will be used to finance the Somerset Wildlife Trust's restoration of an 80-hectare site in the Somerset Levels called Honeygar, and Kent Wildlife Trust's Heather Corrie Vale 50-hectare Golf Course wilding project.
The carbon units produced by the restoration of Honeygar and Heather Corrie Vale will be externally verified by Soil Association Certification, our verification partners who have supported us in developing a robust validation and verification process for all Wilder Carbon Projects.
By only allowing the carbon units to finance restoration of native habitat, Wilder Carbon certifies voluntary carbon projects that will have the maximum possible positive impact on nature.
Wilder Carbon has also developed a robust process for ensuring buyers of its carbon units are demonstrably reducing their carbon emissions. Information from this end-to-end process is kept on an open-access register.
This should all assure the public, buyers, project developers, and investors that Wilder Carbon projects simultaneously address the interconnected climate and nature crisis.
These co-benefits and a robust end-to-end process means Wilder Carbon is the only UK voluntary nature-based carbon scheme that can claim to be offering "conservation grade" carbon units. As such it aims to achieve a premium price for its units.
Wilder Carbon is a private not-for-profit company that has been incubated within the Kent Wildlife Trust in collaboration with other environmental NGOs and partners. Its mission is to leverage carbon finance to rapidly scale up native habitat restoration in the UK in response to climate change and biodiversity loss.
Kent Wildlife Trust received £100,000 from the Environment Agency and Defra's Natural Environment Investment Readiness Fund to help establish the project and to develop it to the point where it is able to attract private investment.
Sir James Bevan, Chief Executive of the Environment Agency, said:
"Wilder Carbon is a pioneering project and Kent Wildlife Trust should be applauded for leading the way in establishing this innovative method for the private sector to invest in protecting, improving and valuing our shared environment.
"Nature has an intrinsic importance and inherent value to our wellbeing and private sector investment in the environment is essential if we are to make our communities climate-resilient and protect the environment for future generations.
"Projects like Wilder Carbon which are being developed using grants from the £10 million Natural Environment Investment Readiness Fund will deliver tangible environmental improvements and demonstrate how financial returns can be generated."
More about our live Wilder Carbon Projects:
We congratulate our Trusted Deliverer Somerset Wildlife Trust for the launch of their Wilder Carbon Honeygar Project. Our sincere thanks also go to the Somerset Wildlife Trust team for their significant contribution in supporting the development of the Wilder Carbon mechanism.
Honeygar is an 80-hectare former dairy farm located in the Somerset Levels which the Somerset Wildlife Trust (SWT) expect to restore using carbon finance raised through Wilder Carbon.
The finance raised by the Wilder Carbon Honeygar project will be used by SWT to re-wet its peat soils. Ecologically, this should not only initiate carbon sequestration, but also provide a significant new area of wetland habitat which will support a wider variety, and greater abundance, of flora and fauna.
Within the Somerset Levels, Honeygar is located in the Avalon Marshes, one of the largest and most important wetland areas in the UK. Honeygar is well connected to other high-value nature areas in the Avalon Marshes, such as Westhay Moor NNR, Westhay Heath, and Catcott nature reserves.
It therefore provides habitat connectivity – central pillar of government conservation policy after the Lawton review – as well as strengthening Somerset's Nature Recovery Network.
Read more about the incredible Wilder Carbon Honeygar Project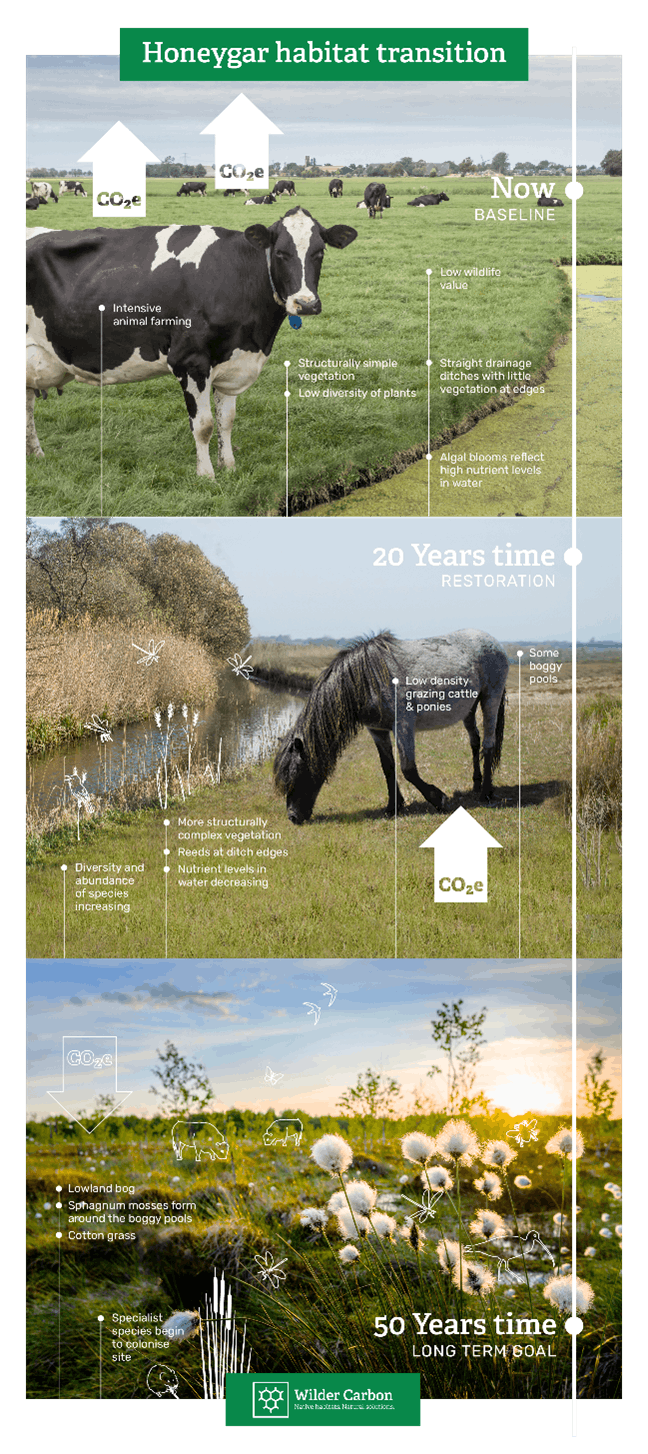 Our Second project, Heather Corrie Vale is located in the Darenth Valley in Kent, which is an extremely valuable part of the Nature Recovery Network, recognised by all the conservation organisations in the area.
Paul Hadaway Director of Implementation at Wilder Carbon Ltd said: "We're particularly proud that the second pathfinder for Wilder Carbon is in Kent. A 50ha former golf course which is being wilded into wood pasture. Both Honeygar and Heather Corrie Vale demonstrate the fundamental premise of Wilder Carbon – that ethical carbon investments can enable habitat restoration at a landscape scale in a virtuous circle tackling both the climate and nature crises"
The site is a recently abandoned golf course comprising maturing woodland and amenity grassland mosaic. The site will be managed through natural processes in order to sequester greater levels of soil and above ground carbon, and significant improvements for biodiversity, creating a haven for wildlife.
Leveraging finance from Wilder Carbon Units, stacked spatially with BNG units will raise the vital funds to support the management of the site and its ongoing protection into the future.
With its High Integrity end-to-end process in place, Wilder Carbon now expect to match a significant pipeline of projects with buyers, and begin realising the huge potential of nature-based carbon removal in the UK across a range of carbon rich multi habitat landscapes.
Read more about the incredible Wilder Carbon Heather Corrie Vale Project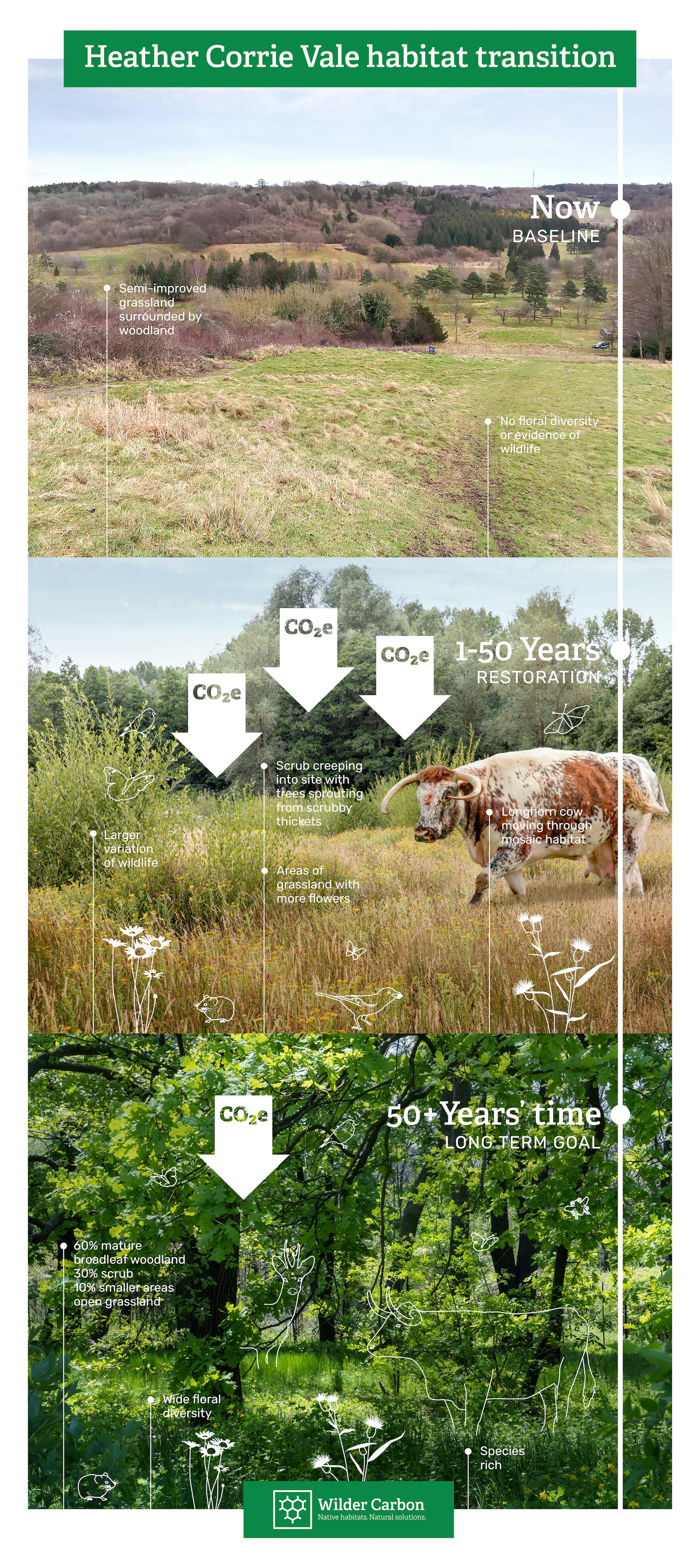 Contact us today to find out more about our developing pipeline of Natural Climate Solutions projects and how you can take voluntary action to fight the crises today by investing in nature for tomorrow.
Bruce Howard, Director of the Ecosystems Knowledge Network: "The Natural Capital Finance & Investment Conference is all about financial innovation that can deliver for climate and for nature. We are immensely proud to see Wilder Carbon on the stage today. Enterprises like this are going to be at the heart of a green future that is good for business, good for people and good for the natural environment that underpins everything."
Evan Bowen-Jones Managing Director of Wilder Carbon, said: "We now know that we must restore at least 30% of the planets ecosystems to good health as part of fighting the climate crisis. We also know that biodiverse native landscapes are going to be the most adaptable, and therefore resilient to, the inescapable climate change that is now upon us. The UK has huge potential to deliver against this agenda because – ironically – our ecosystems are so degraded. Wilder Carbon provides a scaleable mechanism to pair ethically responsible private sector buyers with landowners and conservation agencies to fund the restoration that society needs. In doing so we can achieve UK net-zero 2050 targets quicker than currently planned, and we can create a more secure future for our children and grandchildren".
Matt Prescott, Chair wilder Carbon Board Limited said: "The climate and nature crises can be tackled together through these carbon units. Responsible businesses transitioning to net zero in line with science can now match their forecast residual emissions with high integrity "conservation grade" voluntary carbon units in the UK. There's urgency – projects available today – and there's amazing potential for scale across the UK's diverse but degraded habitats and landscapes. Join us!"