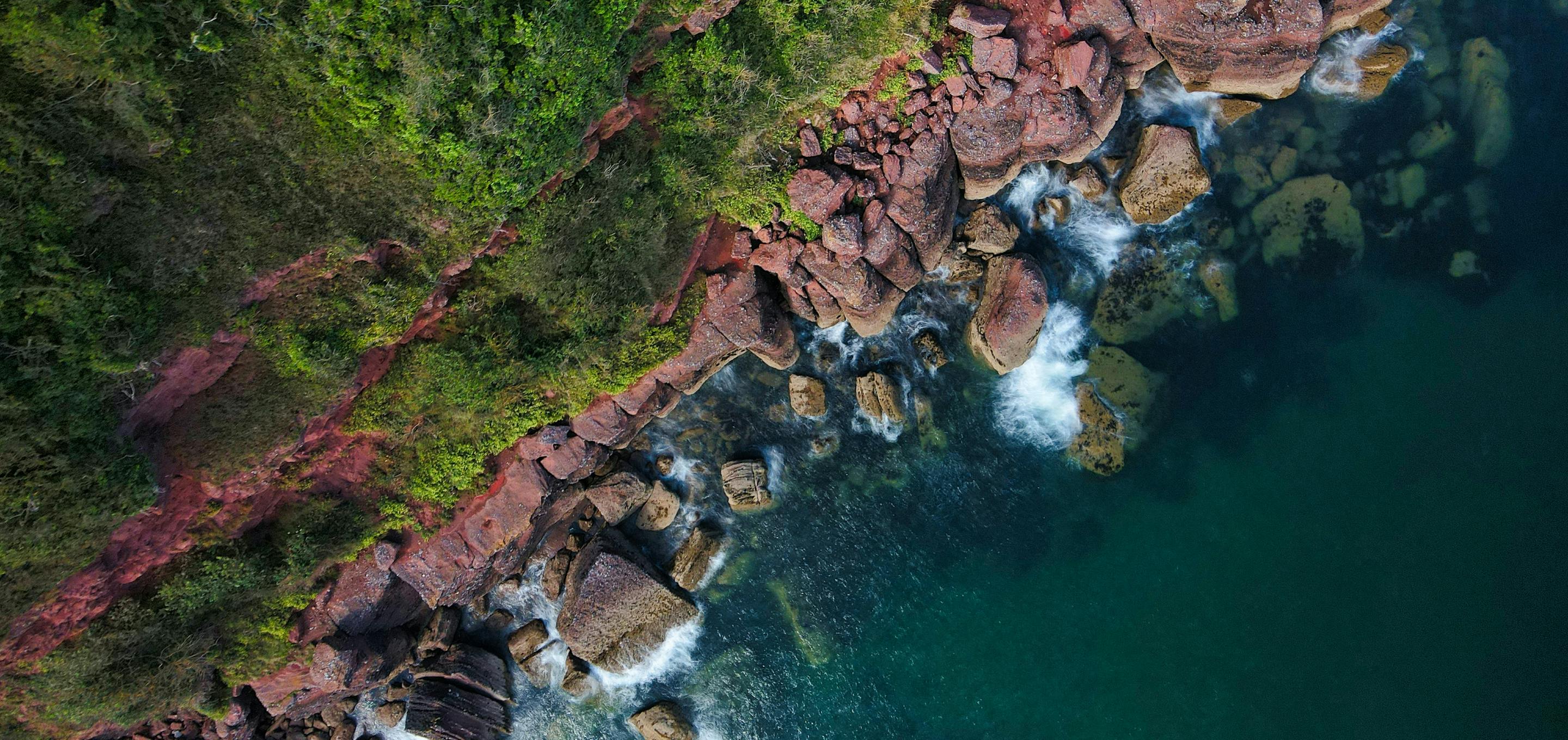 Trusted Deliverer Marcomms Launch Pack
Embargoed until Monday 17th October 6:00am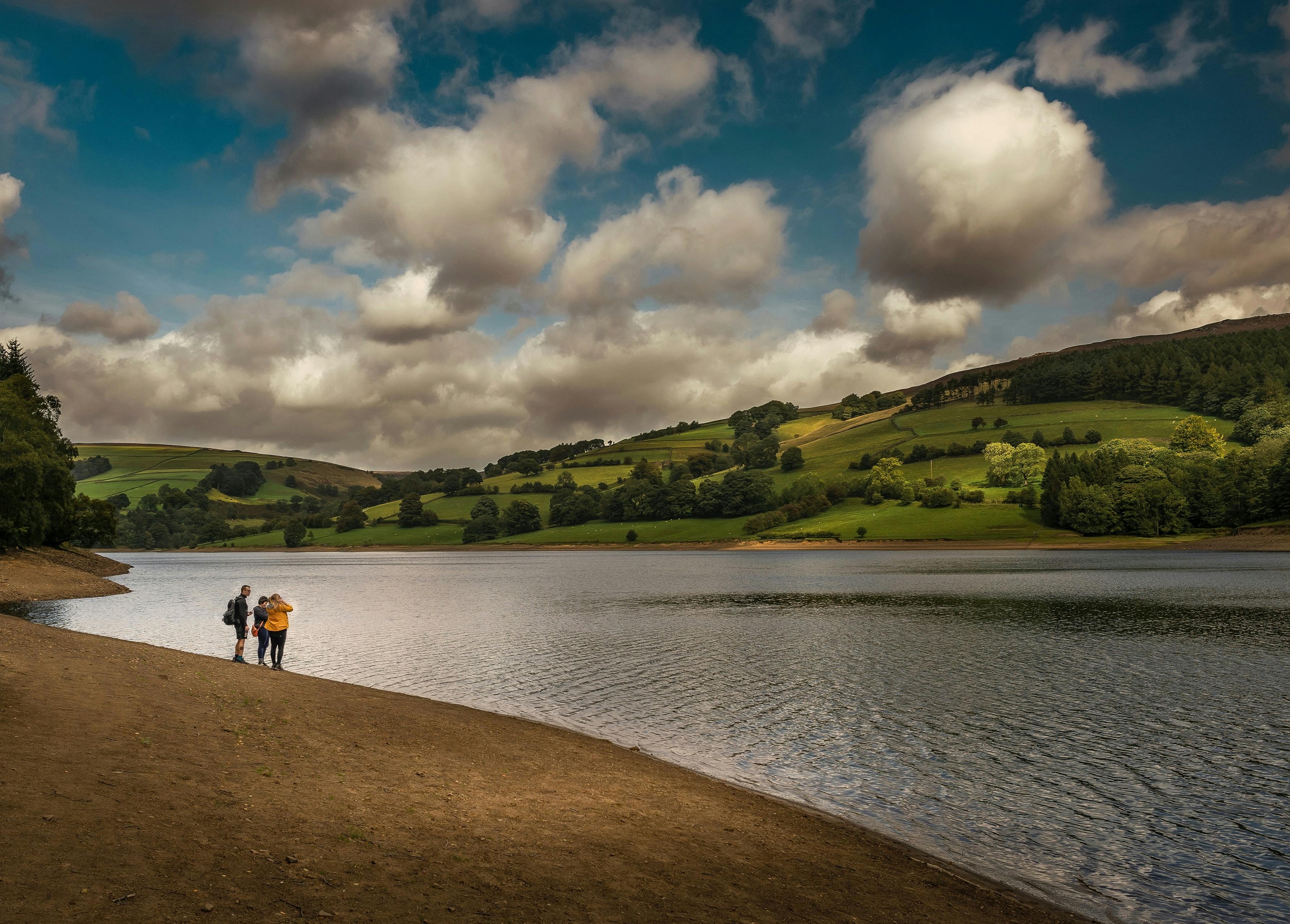 Zoltan Tasi
What is the Wilder Carbon Launch on Monday 17th October?
The Wilder Carbon 'Launch' means that our two pathfinder projects: Honeygar in Somerset and Heather Corrie Vale in Kent have reached the appropriate 'LIVE' status allowing us to open expressions of interest from Approved Buyers who want to purchase the conservation grade, voluntary carbon units generated by these projects.
PR and Marketing during the launch will focus around promotion of the Wilder Carbon Initiative, the pathfinder projects and driving engagement for corporates to apply to become Approved Buyers to enable expressions of interest to purchase.
Any matches (i.e. Approved Buyer accepted by Trusted Deliverer, payment received and the purchase registered on the Registry) will also be heavily publicised.
There will also be interest in other registered projects i.e. West Much Larnick, Cornwall which we will promote. If you would like a developing Wilder Carbon project to be promoted specifically, please let us know.
Wilder Carbon Marketing and Communications Materials for Trusted Deliverers to use externally
Proposed Social Media Posts Content - long

XXXNAMEXXX are proud Trusted Deliverers for @Wilder Carbon and it is great to see it announced today at the @Natural Capital Investment conference 2022 that the first of many Wilder Carbon projects have opened sales of 'conservation grade' voluntary carbon units for UK Approved Buyers to support UK nature restoration into the future.

Carbon units purchased from Wilder Carbon are used to finance new nature recovery projects across multiple carbon rich habitats, that are delivered by vetted third parties with a track-record of safeguarding conservation landholdings.

The first units made available for purchase today will be used to finance the Somerset Wildlife Trust's restoration of an 80-hectare site in the Somerset Levels called Honeygar, and Kent Wildlife Trust's Heather Corrie Vale 50-hectare Golf Course wilding project.

The carbon units produced by the restoration of Honeygar and Heather Corrie Vale will be externally verified by @Soil Association Certification.

By only allowing the carbon units to finance restoration of native habitat, Wilder Carbon also certifies voluntary carbon projects that will have the maximum possible positive impact on nature.

Finally, Wilder Carbon has also developed a robust process for ensuring buyers of its carbon units are demonstrably reducing their carbon emissions. Information from this end-to-end process is kept on an open-access register.

This should all assure the public, buyers, project developers, and investors that Wilder Carbon projects simultaneously address the interconnected climate and nature crisis.

We look forward to launching Wilder Carbon projects very soon! #conservationgradecarbon #wildercarbon #natureandclimate #natureandclimate #VCM

Proposed Social Media Posts short

XXXNAMEXXX are proud Trusted Deliverers for @Wilder Carbon and it is great to see that the first projects have today opened sales of 'Conservation grade' voluntary carbon units for UK Approved Buyers to support UK nature restoration into the future. We look forward to launching Wilder Carbon projects very soon! #conservationgradecarbonunits #wildercarbon #natureandclimate #natureandclimate #VCM

Paul Hadaway, Director of Implementation at Wilder Carbon Says: The Wilder Carbon mission is to safeguard nature by protecting and restoring a range of carbon-rich native habitats across the UK for the benefit of climate, wildlife, and society, delivering genuine carbon removals. Our #TrustedDeliverers are vital in this mission, supporting the development of high quality Natural Climate Solutions here in the UK.

Sir James Bevan, chief executive of the Environment Agency, said:

"Wilder Carbon is a pioneering project and Kent Wildlife Trust should be applauded for leading the way in establishing this innovative method for the private sector to invest in protecting, improving and valuing our shared environment.

"Nature has an intrinsic importance and inherent value to our wellbeing and private sector investment in the environment is essential if we are to make our communities climate-resilient and protect the environment for future generations.

"Projects like Wilder Carbon which are being developed using grants from the £10 million Natural Environment Investment Readiness Fund will deliver tangible environmental improvements and demonstrate how financial returns can be generated."

Bruce Howard, Director of the Ecosystems Knowledge Network: "The Natural Capital Finance & Investment Conference is all about financial innovation that can deliver for climate and for nature. We are immensely proud to see Wilder Carbon on the stage today. Enterprises like this are going to be at the heart of a green future that is good for business, good for people and good for the natural environment that underpins everything."

Evan Bowen-Jones Managing Director of Wilder Carbon, said: "We now know that we must restore at least 30% of the planets ecosystems to good health as part of fighting the climate crisis. We also know that biodiverse native landscapes are going to be the most adaptable, and therefore resilient to, the inescapable climate change that is now upon us. The UK has huge potential to deliver against this agenda because – ironically – our ecosystems are so degraded. Wilder Carbon provides a scaleable mechanism to pair ethically responsible private sector buyers with landowners and conservation agencies to fund the restoration that society needs. In doing so we can achieve UK net-zero 2050 targets quicker than currently planned, and we can create a more secure future for our children and grandchildren".

Matt Prescott, Chair wilder Carbon Board Limited said: "The climate and nature crises can be tackled together through these carbon units. Responsible businesses transitioning to net zero in line with science can now match their forecast residual emissions with high integrity "conservation grade" voluntary carbon units in the UK. There's urgency – projects available today – and there's amazing potential for scale across the UK's diverse but degraded habitats and landscapes. Join us!"

Paul Hadaway Director of Implementation at Wilder Carbon Ltd said: "We're particularly proud that the second pathfinder for Wilder Carbon is in Kent. A 50ha former golf course which is being wilded into wood pasture. Both Honeygar and Heather Corrie Vale demonstrate the fundamental premise of Wilder Carbon – that ethical carbon investments can enable habitat restoration at a landscape scale in a virtuous circle tackling both the climate and nature crises"

Georgia Stokes Chief Executive at Somerset Wildlife Trust said: "Somerset Wildlife Trust is really proud to be a trusted deliverer with Wilder Carbon. Being a Trusted Deliverer means that we have the assurance we're working to high standards through the standards board and that our project has been checked and verified independently to make sure that we're going to deliver those carbon benefits and biodiversity gains"
Wilder Carbon Intro Video
Trusted Deliver Social Media Tiles (please contact us to create your social media tile if not featured below, or if your tile needs updating)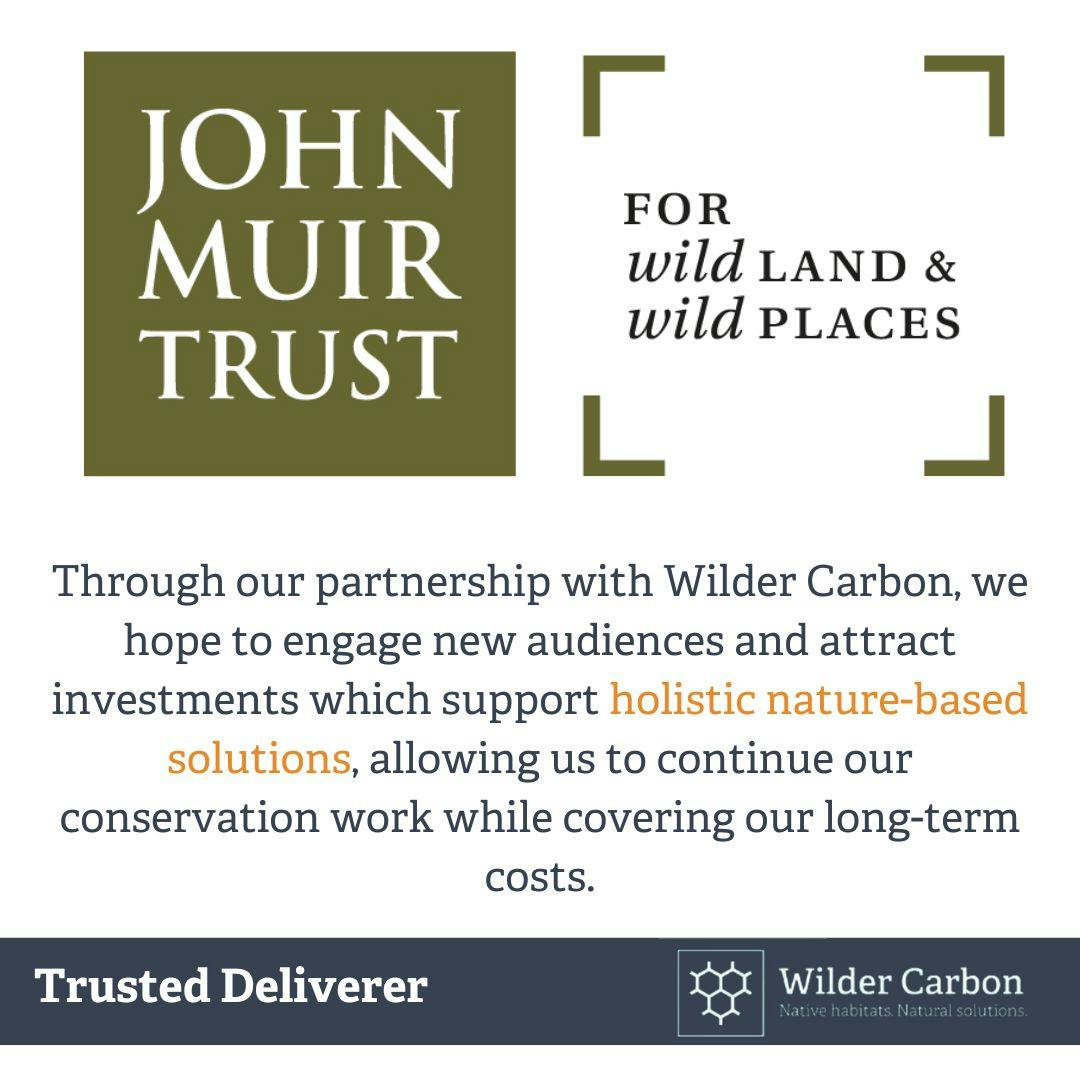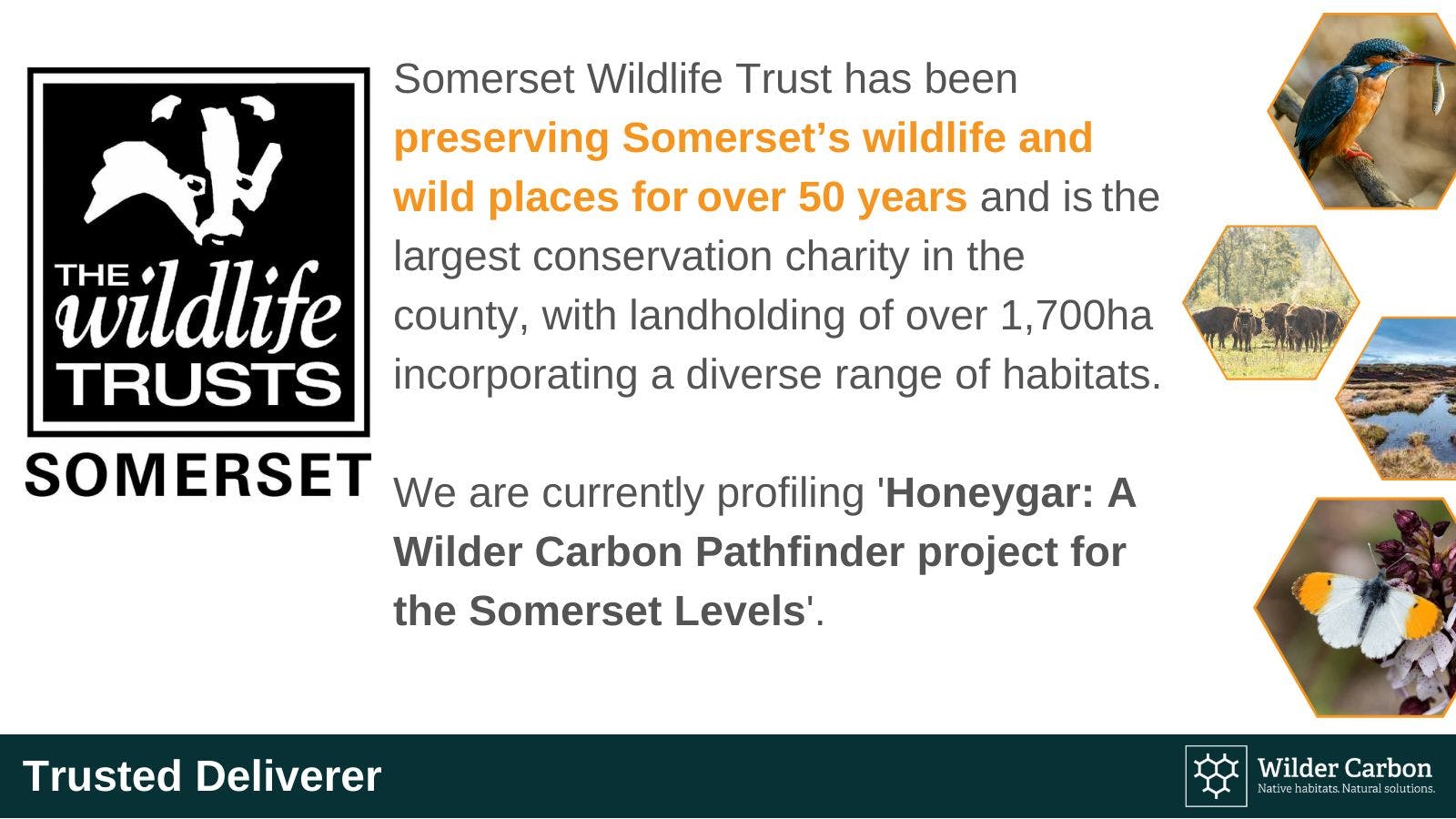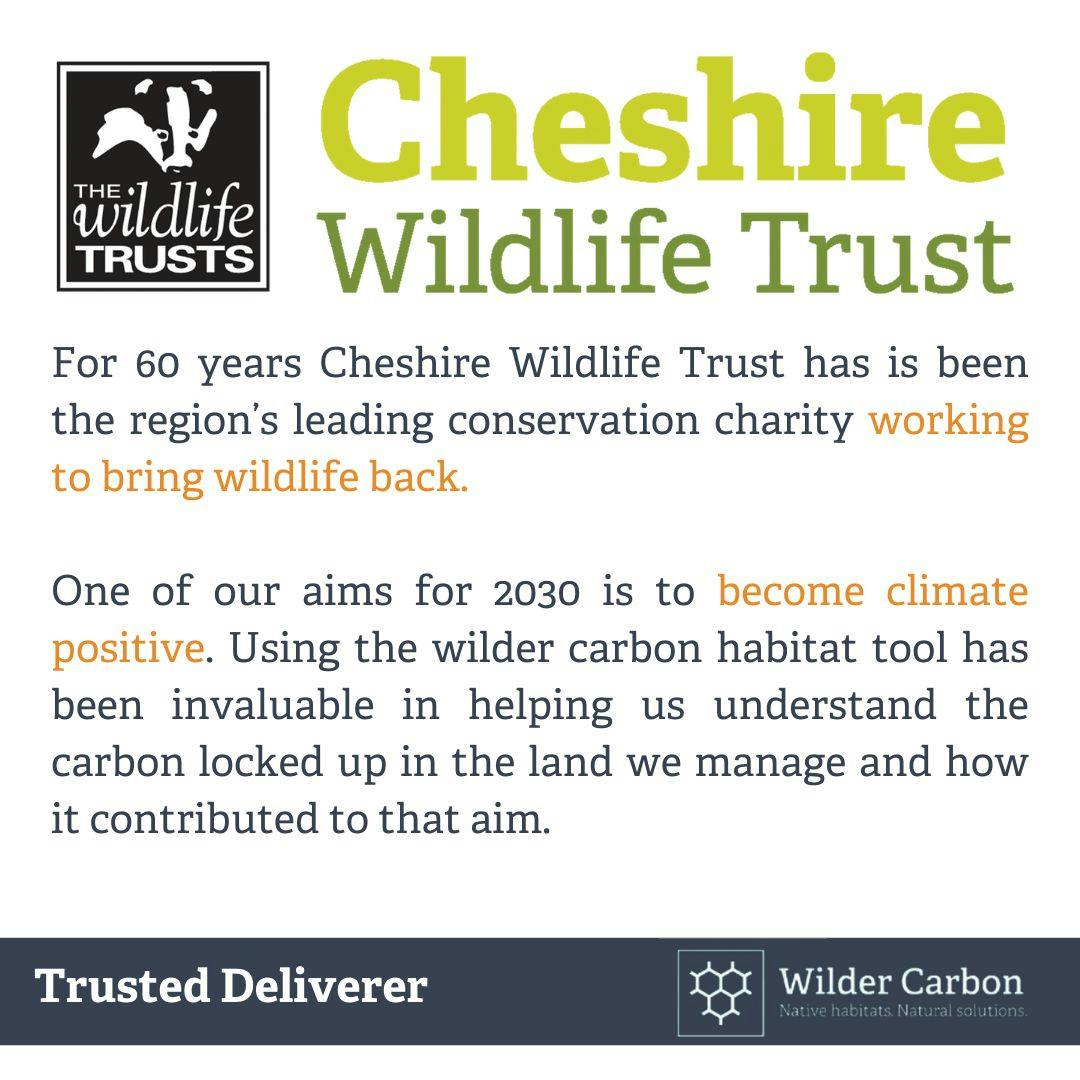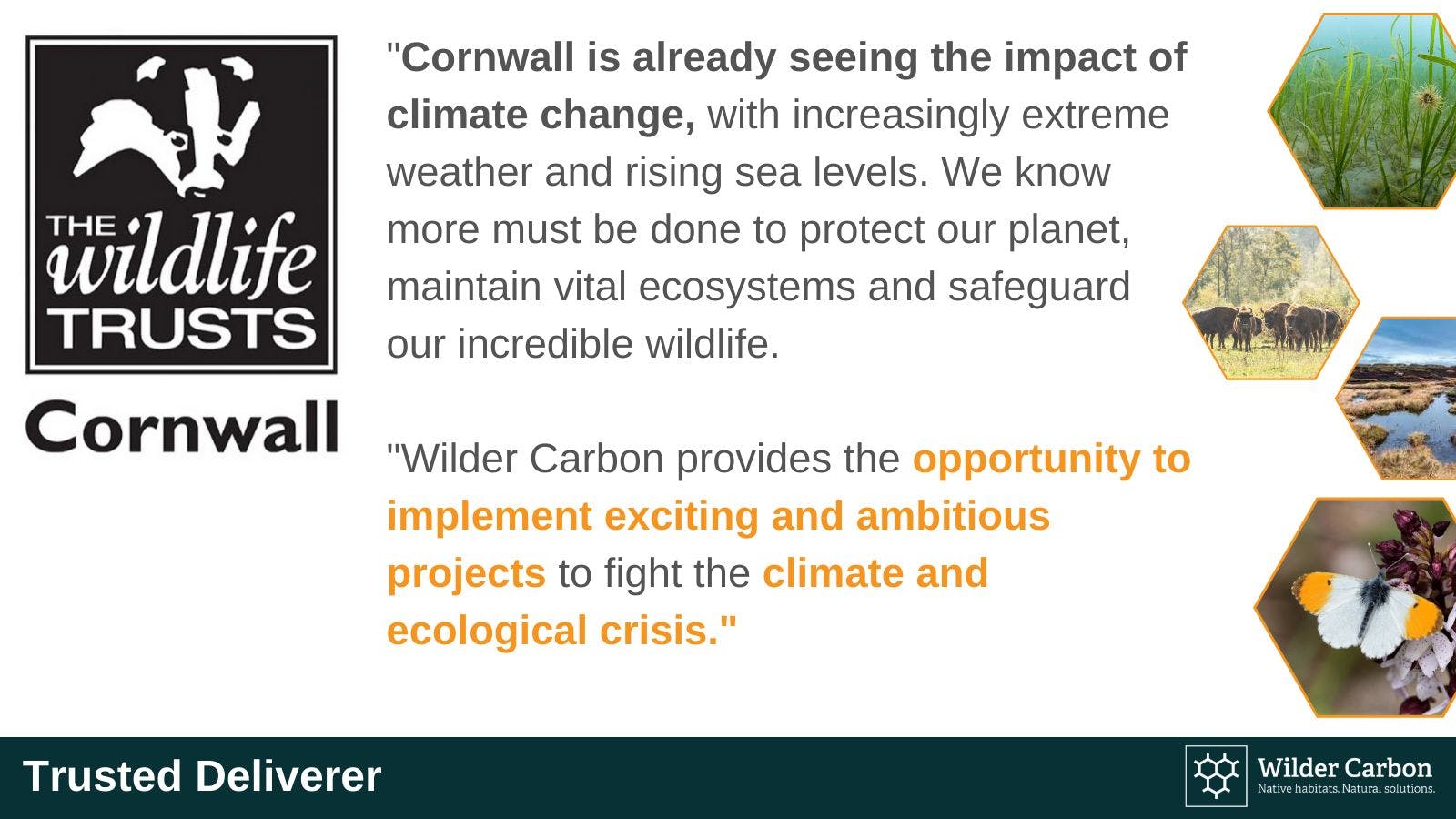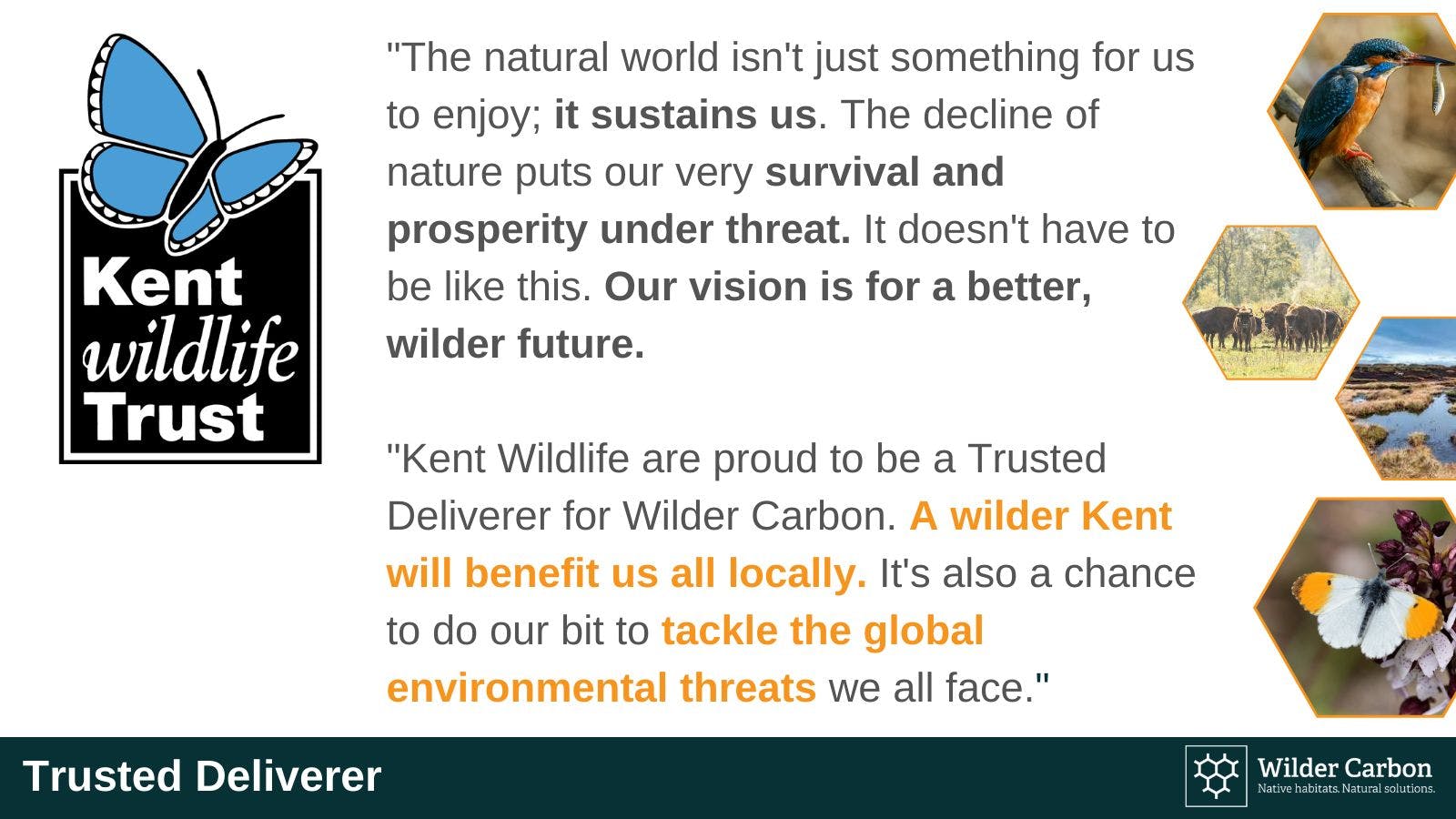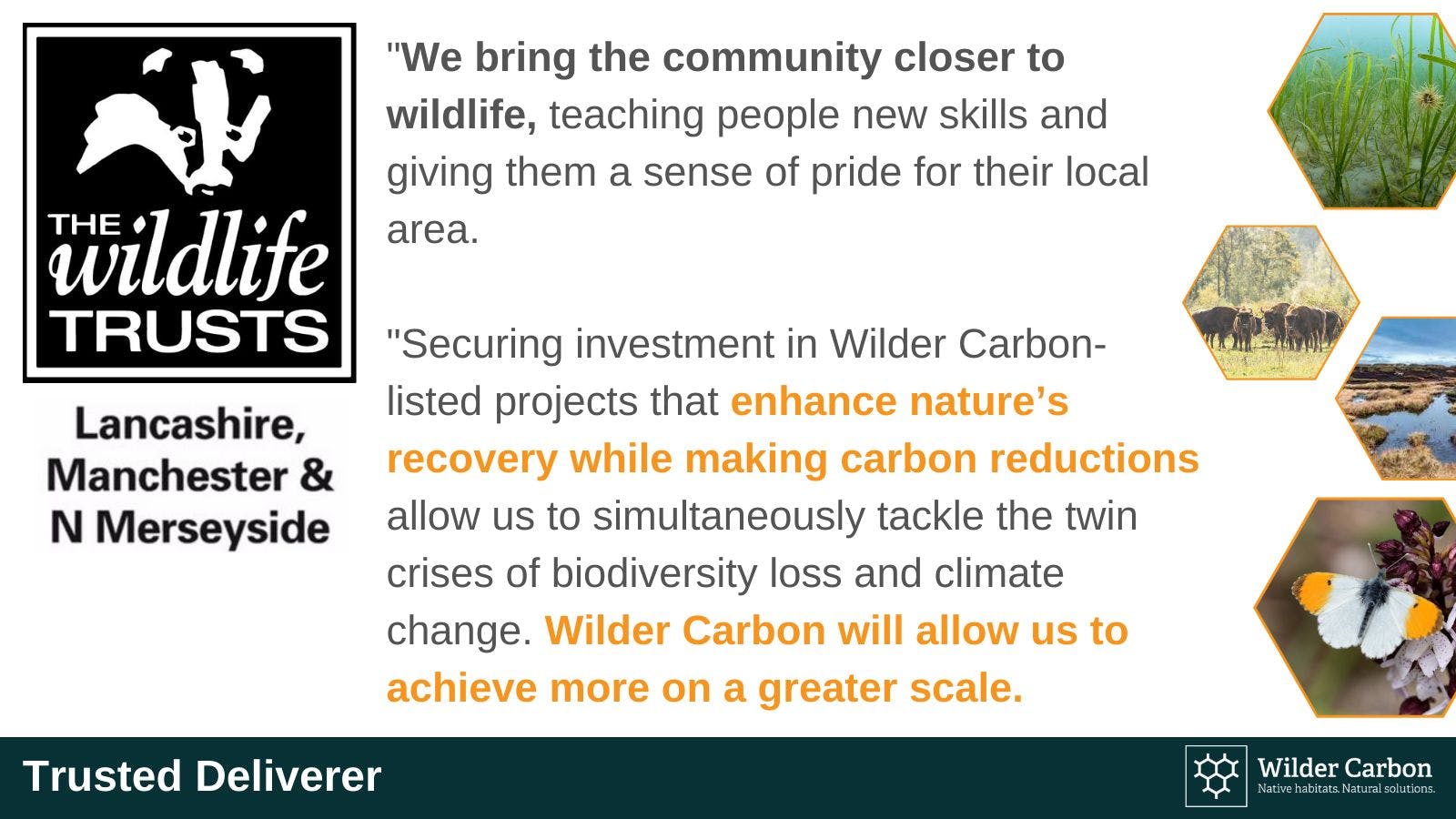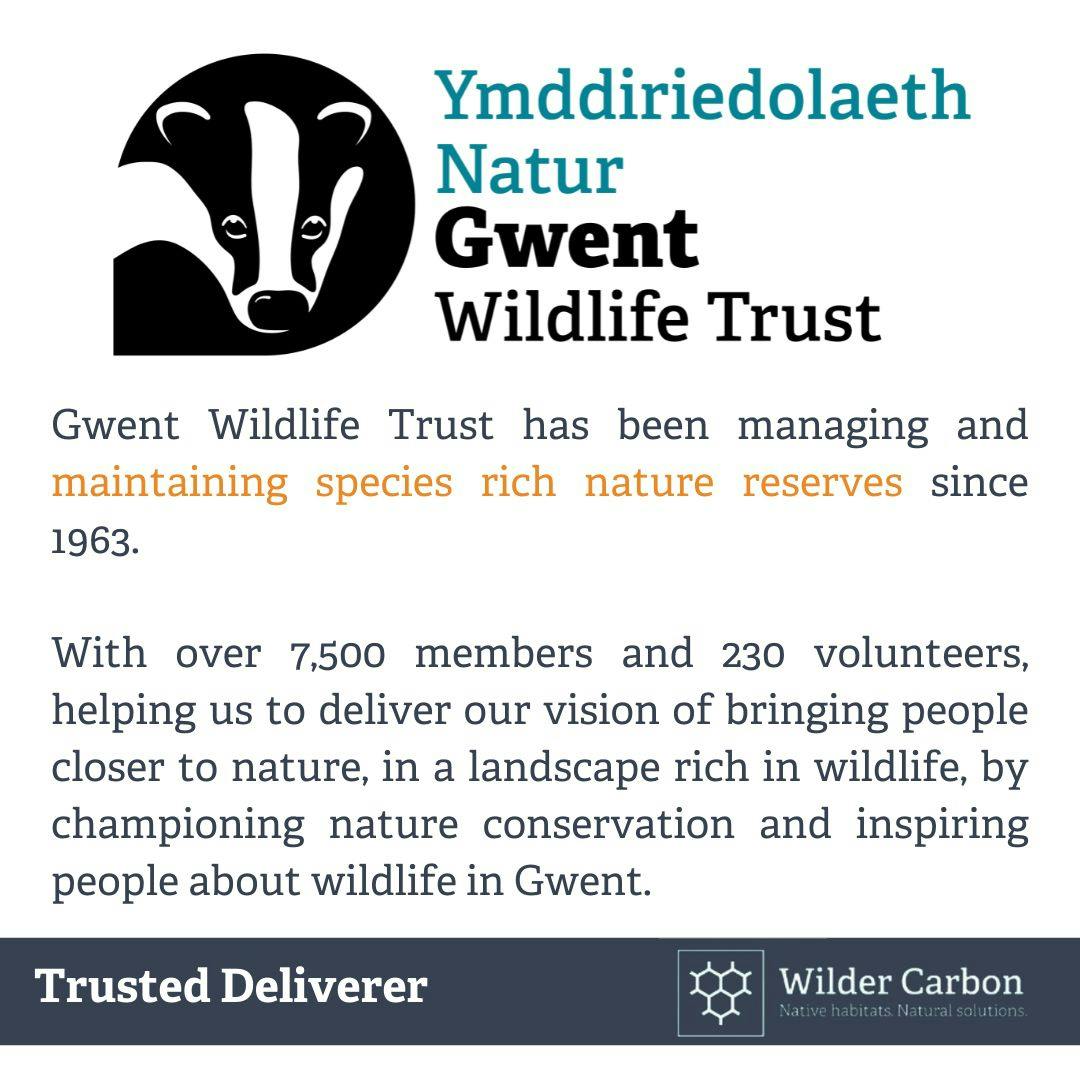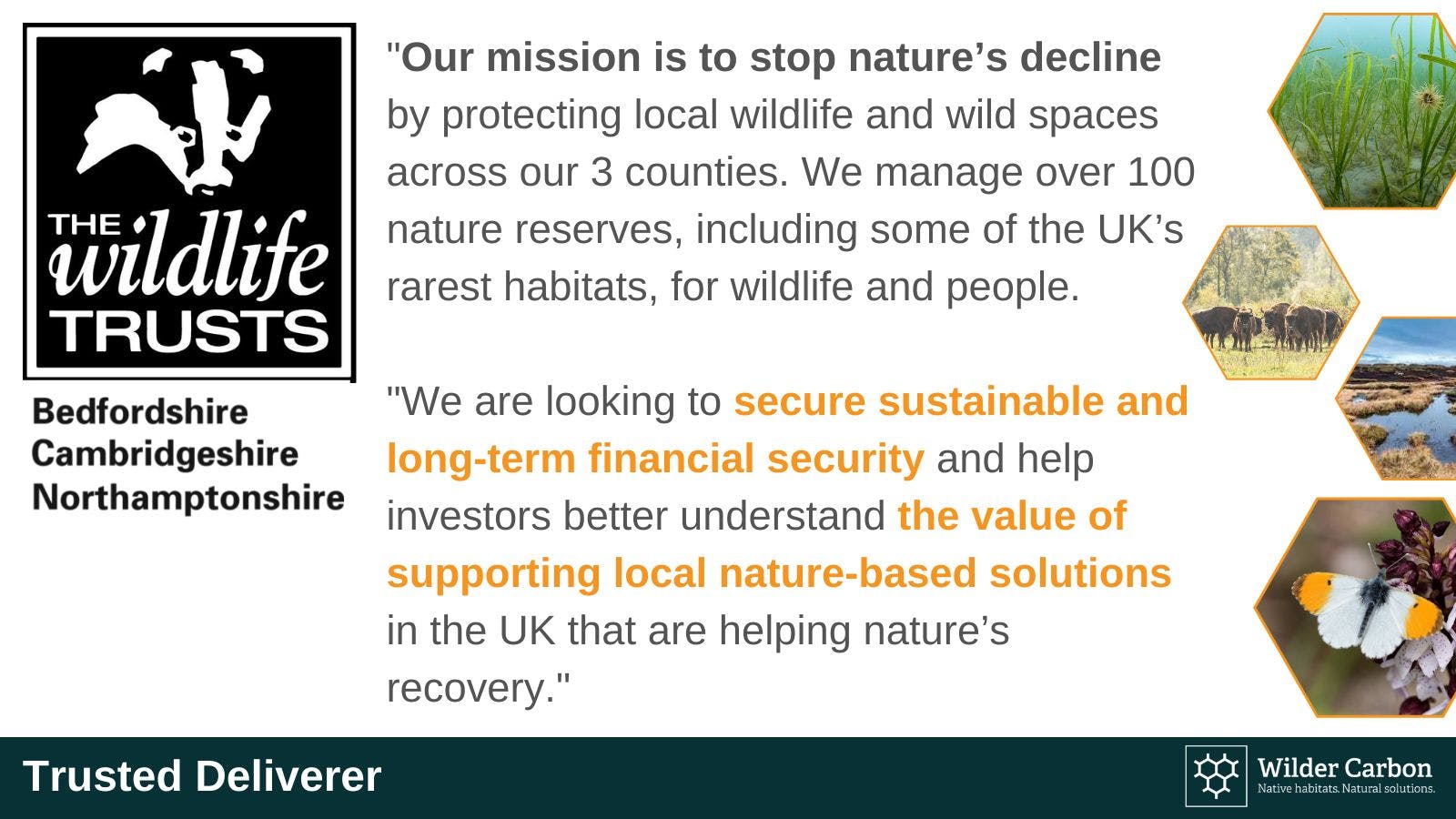 Approved Images for Trusted Deliverer use in Marketing and Communications